Maui Lani is a planned community located between Kahului and Wailuku designed to offer the residents the finest in housing, recreation, and business development while respecting the aina and the beauty of the Valley Isle.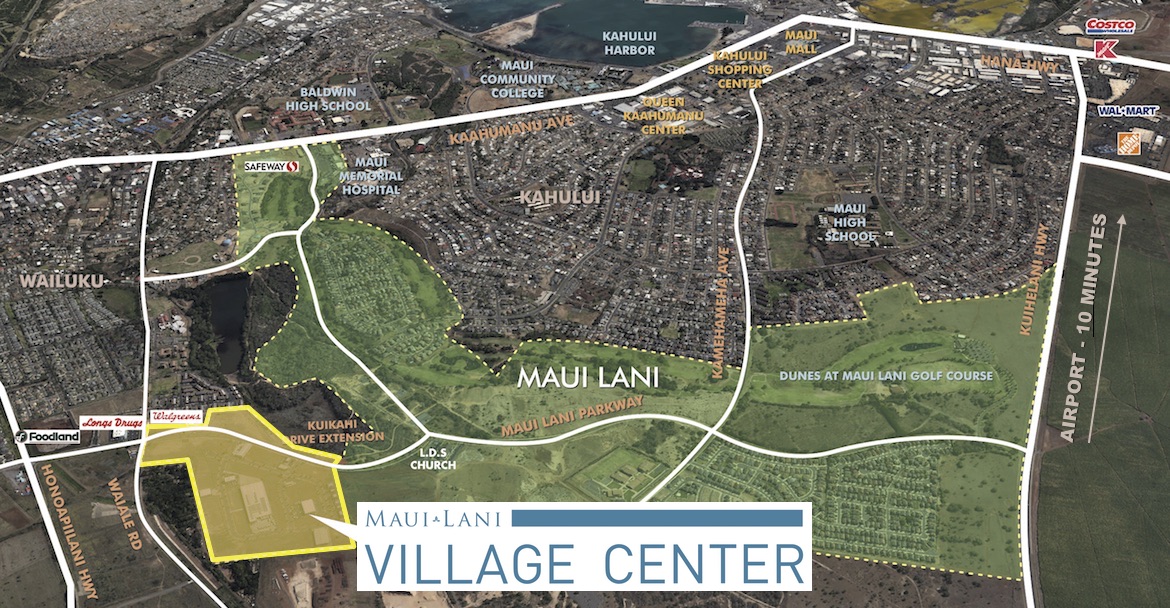 Office and Professional Row
Turnkey, build-to-suit, stand-alone buildings
Ground floor office with residential living option above
Ideal for professional, medical, and office use with residential capability
Close proximity to Maui Memorial Medical Center and Kaiser Clinics
Ample parking
Up to 5,400 SF of space available
Warehouse / Distribution
Build-to-suit option available for qualified buyers
Highly accessible Central Maui location
10 minutes from Kahului Airport and Harbor
Direct access to Honoapiiliani Highway and Kuihelani Highway
Wide road widths allow maximum maneuverability for large vehicles and trucks
Retail
Located in the heart of Maui's population center
Adjacent to heavily-trafficked new regional roadway
Captive audience from neighboring businesses and residences
Anchored by well-known national retailers
Additional traffic generated by new 24,000 SF LDS Church, 27-acre regional park, and state-of-the-art elementary school
Residential
Live-work opportunities
Employee housing
Suitable for caretakers / on-site managers
Multi-family residences/apartments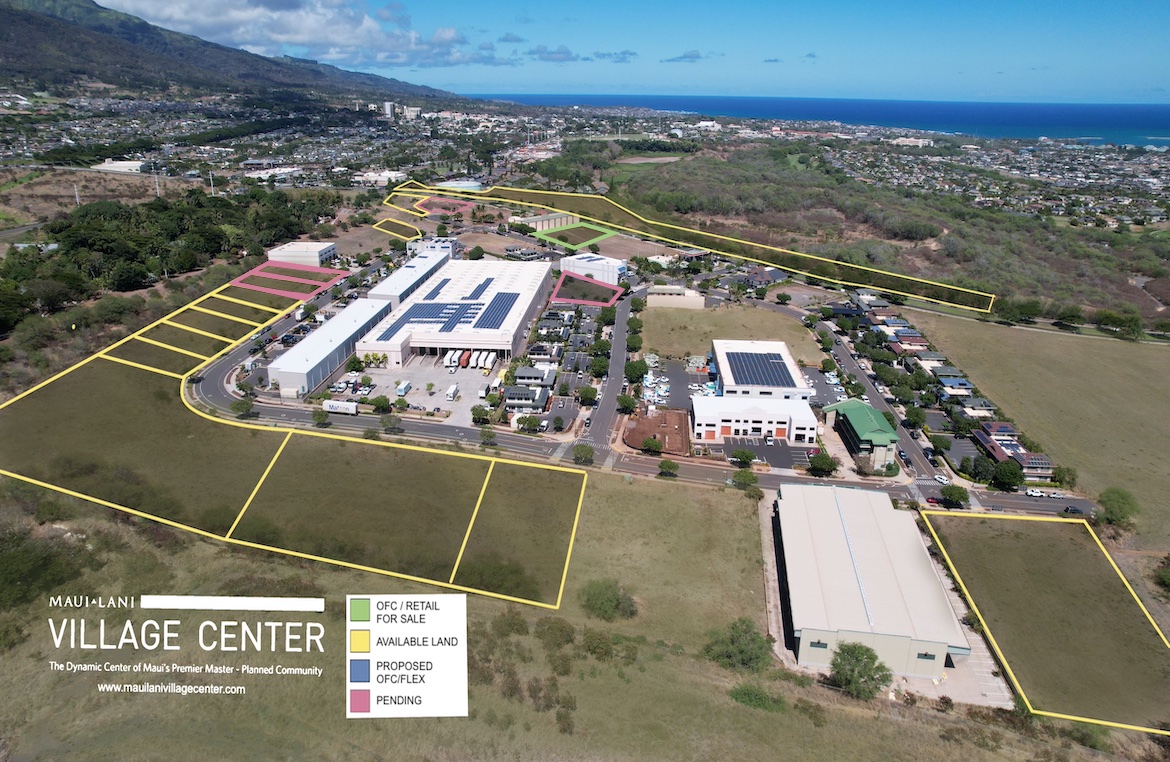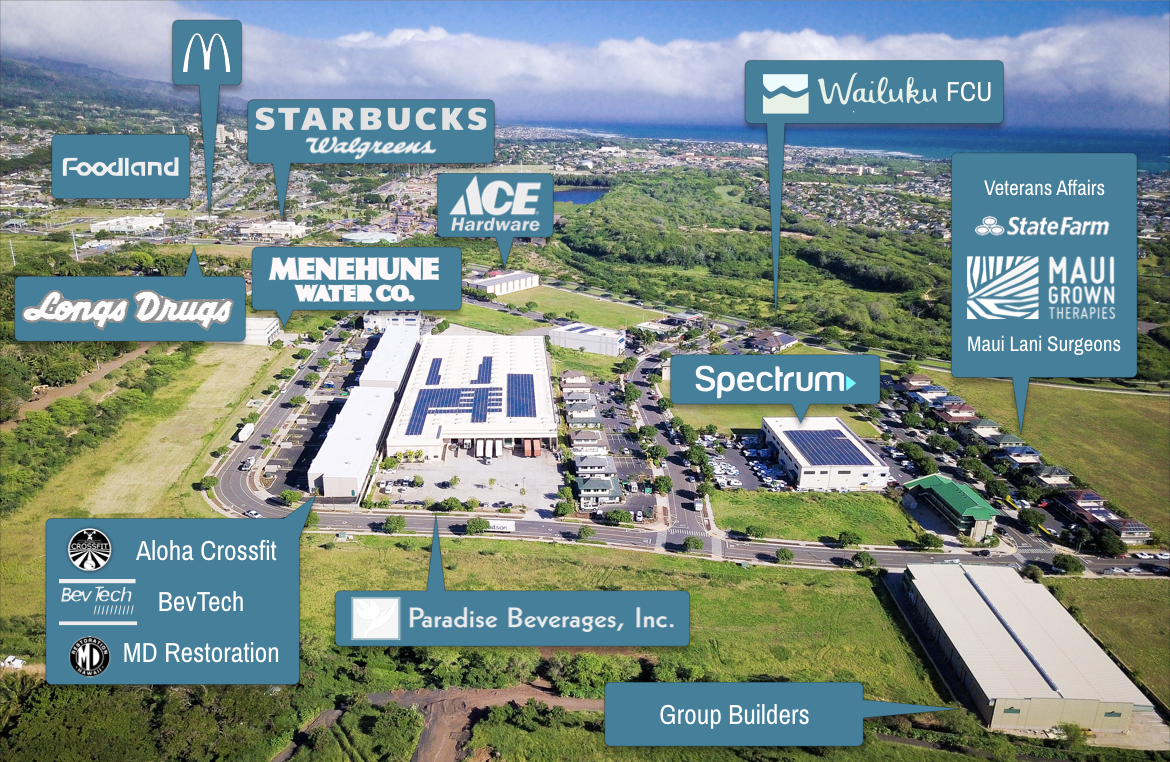 Lot 53A
23,415 SF
$55 psf
Lot 2: Office/Retail for Sale
18,913 SF
$60 psf
Lot 72: Vacant Land (Pending)
14,669 SF
$55 psf
Lot 71: Office/Retail for Sale
22,031 SF
$55 psf
Lot 35: Vacant Land
26,512 SF
$60 psf
Lot 34: Vacant Land
20,287 SF
$60 psf
Lot 33: Vacant Land
26,918 SF
$60 psf
Lot 79: Vacant Land
326,312 SF
$50 psf
Lots 76A and 76B: Vacant Land
76A: 32,205 SF (Pending)
76B: 63,963 SF
$60 psf
Lot 29: Vacant Land
25,234 SF
$50 psf
Lot 27: Vacant Land
24,225 SF
$50 psf
Lot 23: Vacant Land
18,876 SF
$50 psf
Lot 22: Vacant Land
18,155 SF
$50 psf
Lot 21: Vacant Land
18,688 SF
$50 psf
Lot 20: Vacant Land
19,483 SF
$50 psf
Lot 19: Vacant Land
19,465 SF
$50 psf
Lot 18: Vacant Land
17,449 SF
$50 psf
Lot 17: Vacant Land
18,284 SF
$50 psf
Lot 16: Vacant Land
79,300 SF
$50 psf
Lot 15: Vacant Land
61,565 SF
$50 psf
Lot 14: Vacant Land
39,887 SF
$50 psf
Lot 11: Vacant Land
62,291 SF
$50 psf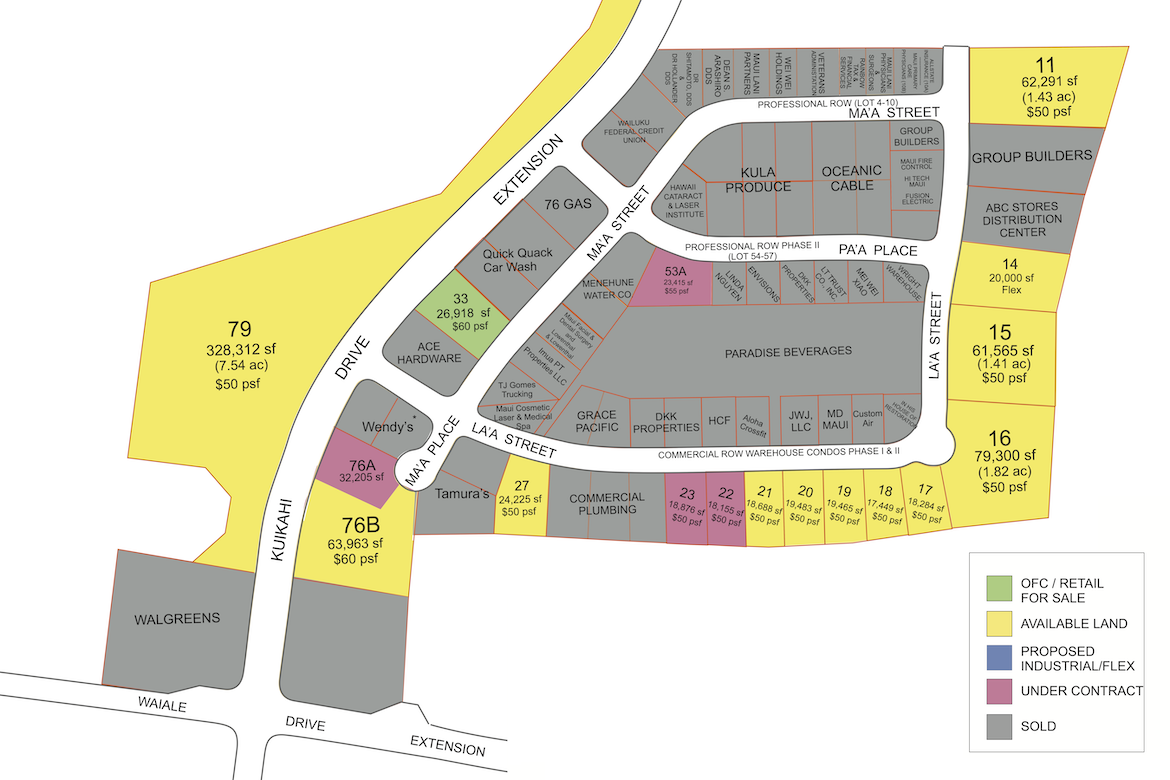 Strategically located at the core of Maui's population center, the Maui Lani Village Center is a superb choice for businesses looking to establish themselves at the heart of Central Maui's growing community.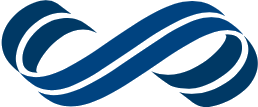 Easily accessible via new regional roadways, the Center is conveniently located within minutes of Kahului's harbor, airport and hospital, and surrounded by more than 70,000 residents within a 10-mile radius. Nearby are growing residential neighborhoods, Pomaikai Elementary School and the new Church of Jesus Christ of Latter-day Saints, with an estimated local membership of 6,000.
The Center's flexible mixed-use zoning allows for a wide array of uses including light industrial, retail, professional and medical offices, restaurants, recreation centers, financial services, educational facilities, grocery stores and residential units. Buyers can opt to design and build their own custom facilities, or purchase a turnkey package in the project's Professional Row neighborhood. Lots are fully entitled and ready-to-build, with utilities already stubbed and county water meters available.
Project Highlights
Fully-entitled, ready-to-build lots
Drainage and utilities stubbed to site
Developer assistance with building permit
Flexible zoning
Multiple lot configurations
Flexible parking ratio, which allows greater lot coverage
Ample on-street parking
High quality design standards
Part of large, master-planned community
Well-known and financially-sound neighboring businesses